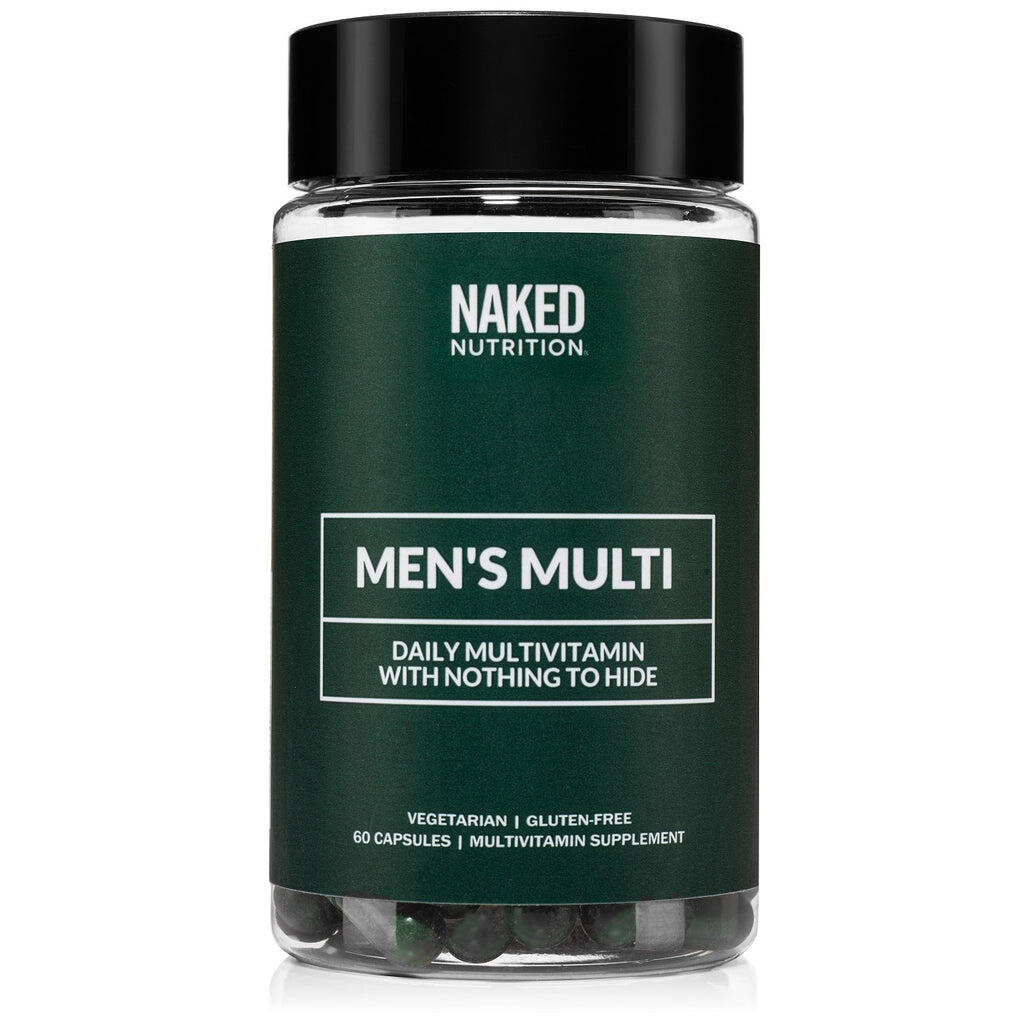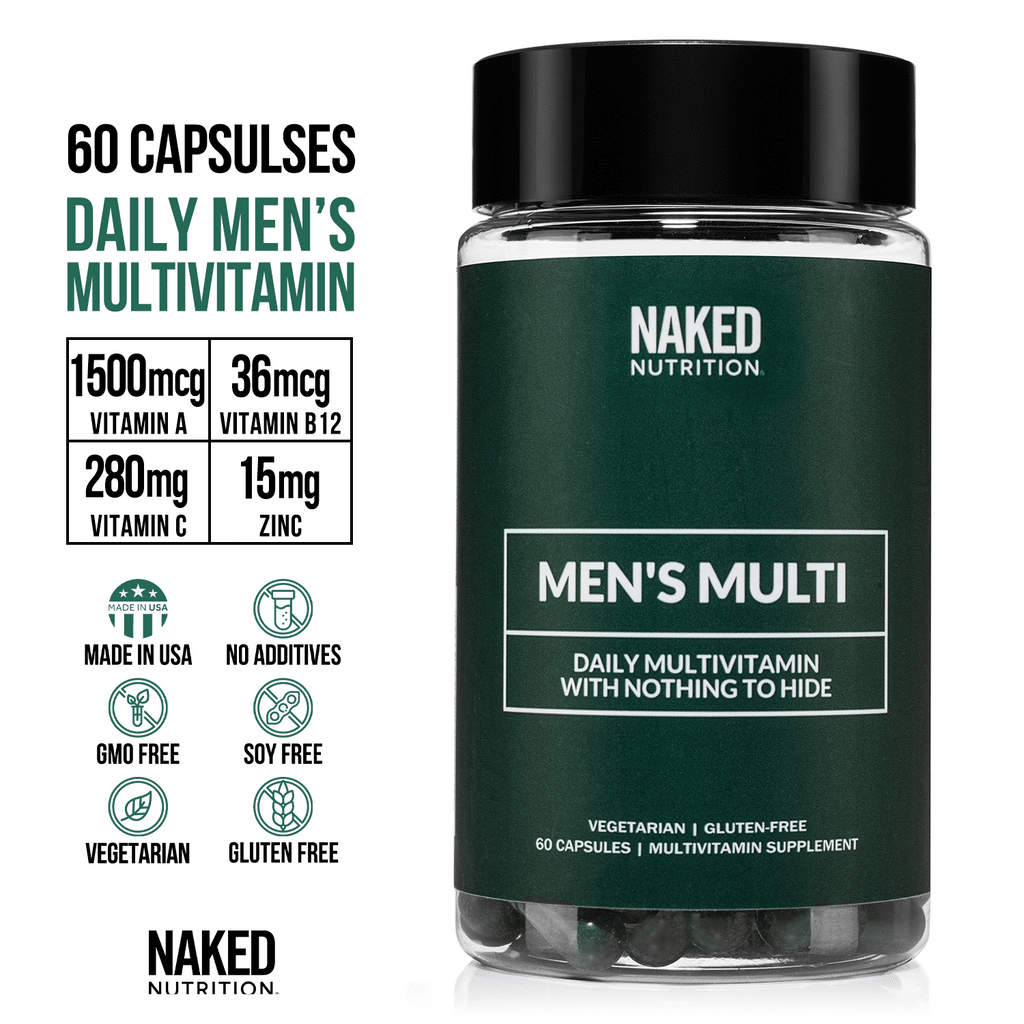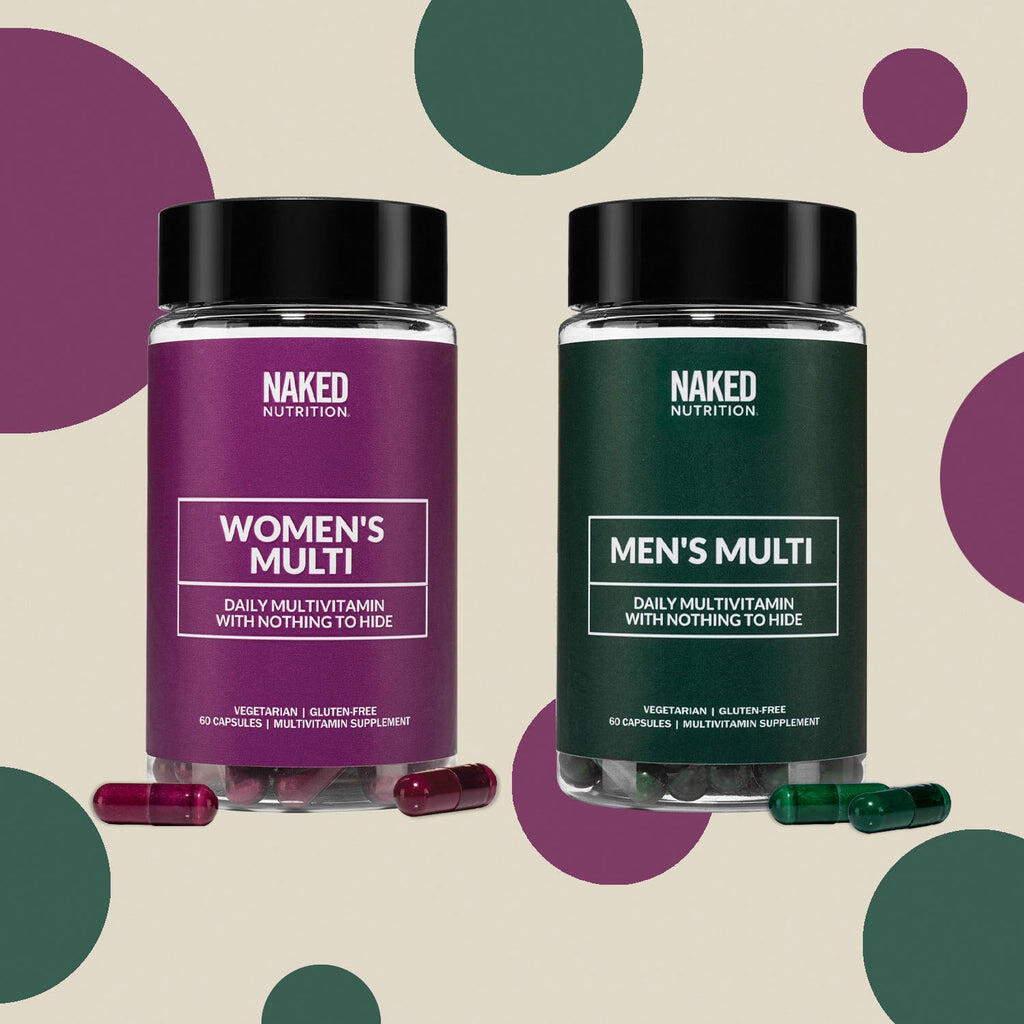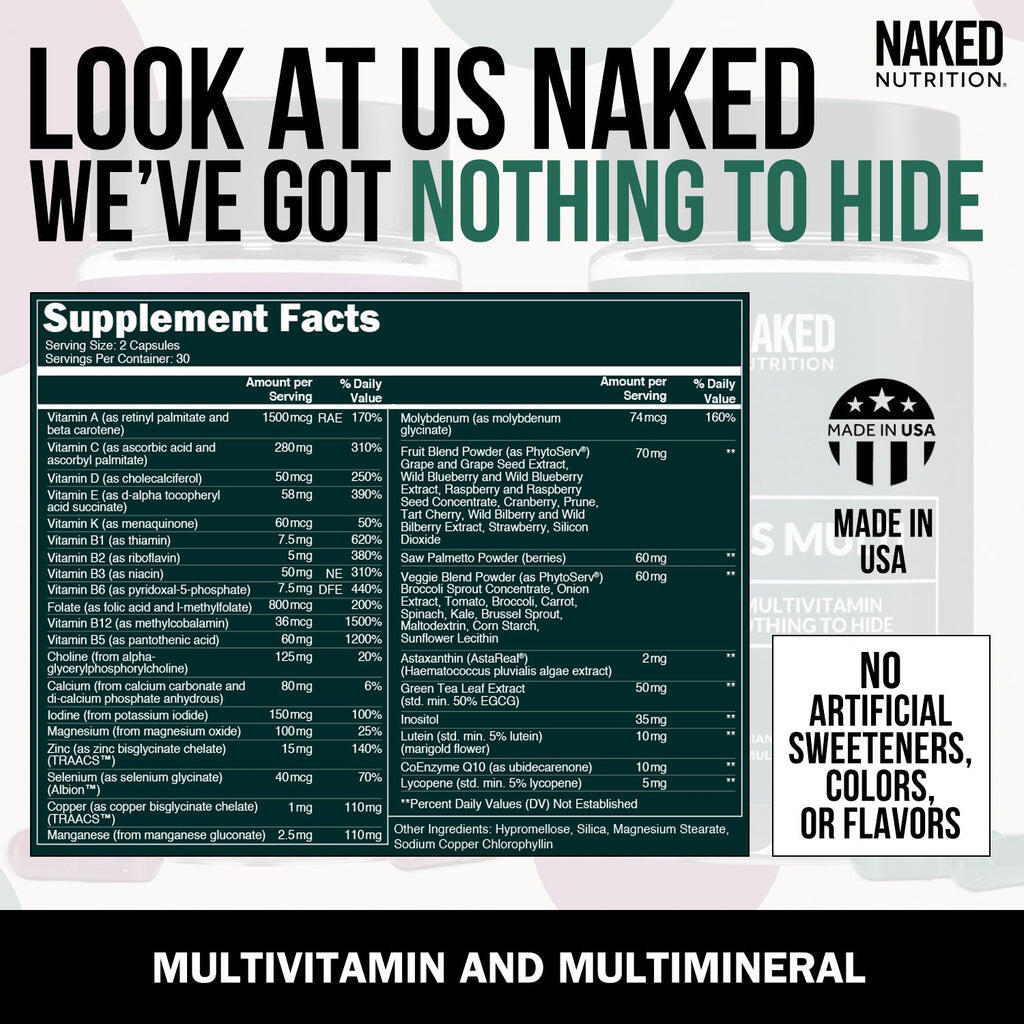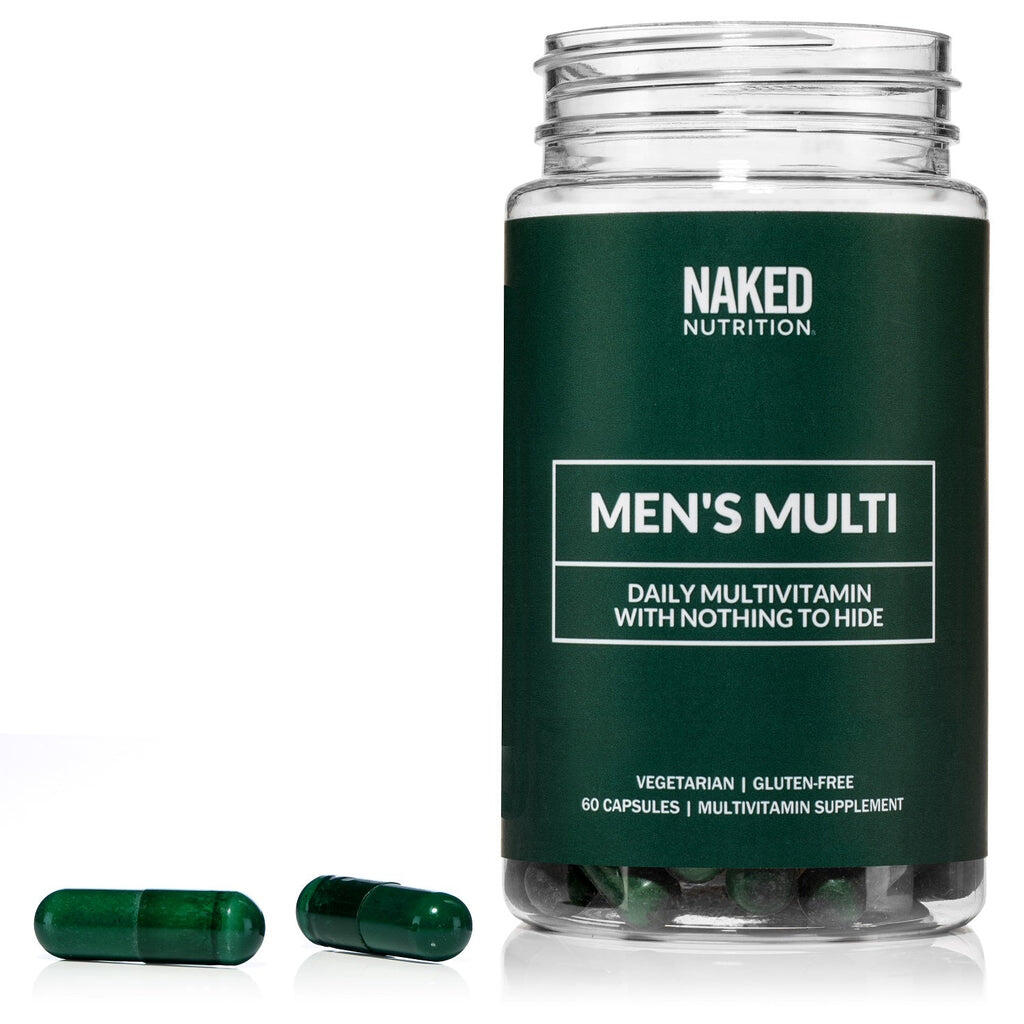 Multivitamin for Men
Naked Men's Multi is an Iron-Free Multivitamin and Multimineral that provides optimal prostate and immune support with antioxidants from Vitamin A, Vitamin C, Vitamin E, Selenium, Carotenoids and Zinc.

It also contains clinically supported Saw Palmetto Extract with cellular energizers for optimal methylation with CoQ10 and includes an array of whole food prebiotic rainbow fruits and greens for optimal gut health.

At Naked Nutrition, we are committed to shortening the steps between our farms and you.
Free Shipping over $129. Estimated Delivery: Oct 09 - 12
The Naked Difference
High-potency, meets RDA for many key vitamins/minerals
Low-potency. Typically not enough to meet RDA
TRAACS formula to increase absorption
None, when taken with or between meals
Often causes GI discomfort
Benefits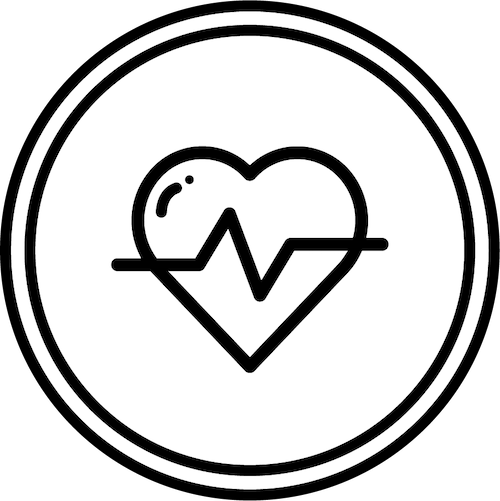 Formulated For Maximum Health
Vitamins and minerals aid optimal cellular function in your body to keep you healthy and help you perform at your best. But it's not just about packing a bunch of random vitamins together into a capsule and calling it a multivitamin. Men's Multi is formulated by our nutrition scientists to maximize the benefits of its ingredients. The nutrients, and the ratios in which they are present, have been carefully designed to increase their absorption and effectiveness. The vitamins and minerals in Naked MV work synergistically to support energy, focus, and general wellness so you do more at the gym, at work, or with your friends and family.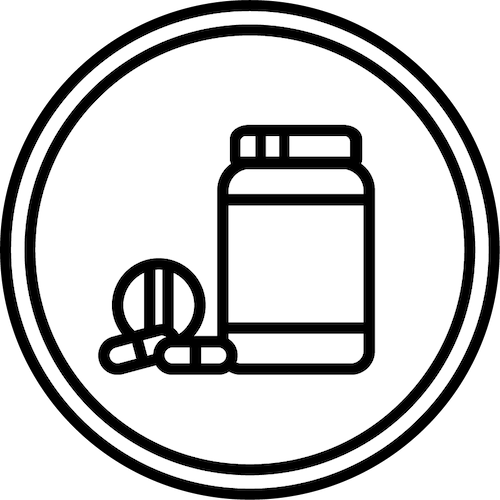 Cover Your Nutritional Bases
In an ideal world, we'd all eat a perfect diet with 5-7 servings of fruits and vegetables each day. We'd get a range of cruciferous vegetables, leafy greens, enough sunlight, and adequate zinc and B-vitamins. But despite the best of intentions, it can be very difficult to consistently eat a diet that covers all the nutritional bases with today's busy lifestyle. Men's Multi helps you make sure you're not leaving any gaps in your diet, and it provides your body with all the resources it needs to function at its best.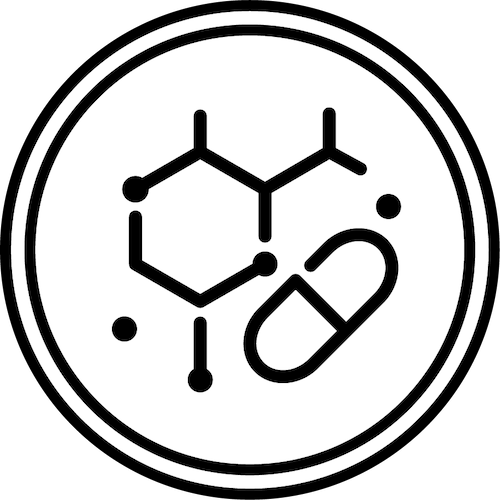 Anti-Aging Antioxidants
Free radicals are everywhere. Whether it's from environmental toxins, dietary sources, pathogens, or even the ones created from your own metabolic processes, they can cause damage to your cells, increase the risk of illnesses, and accelerate the aging process. Antioxidants are molecules that can counteract free radicals to keep you healthy and feeling well. Men's Multi consists of a blend of berries along with vitamins A, C, E, lutein, and astaxanthin to provide a powerful antioxidant punch. It helps limit free radical damage to support vision, healthy skin, energy levels, immunity, joint health, and a lot more. Men's Multi also contains broccoli sprout concentrate. Sulforaphane, a compound found in broccoli sprouts, aids detoxification and has been linked with reduced disease risk.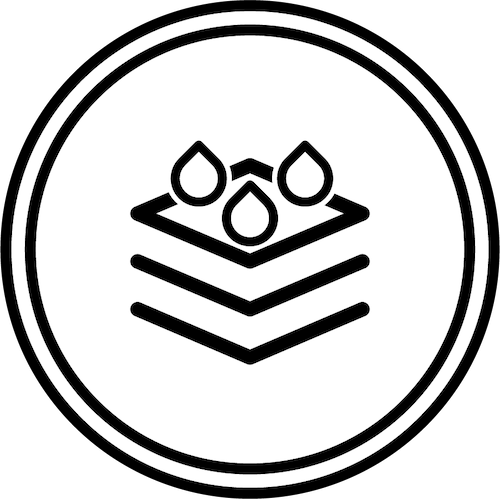 Vital Minerals, Better Absorption, Better Results
Zinc is a vital mineral for optimal health, whether it's better sleep, hormonal balance, or immune system function, just to name a few. But unless you eat shellfish or organ meats regularly, it can be a challenge to get adequate zinc from diet alone. Especially if you also avoid fortified cereals and dairy products. And many zinc supplements on the market aren't absorbed well by your body. We source our zinc from Albion Labs, and they use TRAACS (The Real Amino Acid Chelate System) to increase absorption and bioavailability. Not only do you meet your daily zinc requirements, but you also absorb it well to enjoy maximum benefits and none of the side effects like GI discomfort.
Better Mood, Laser Focus
With Men's Multi, you get a healthy dose of vitamin B6 every day. Vitamin B6 is critical for the synthesis of neurotransmitters like GABA, serotonin, and dopamine, all of which play a significant role in how you feel. Vitamin B6 also promotes better cognitive speed, which means you can process information faster and get more done. And combined with magnesium in Men's Multi, vitamin B6 can help improve mental focus. For further support, Men's Multi contains green tea leaf extract, lutein, and astaxanthin, to support calmness and a sense of wellbeing.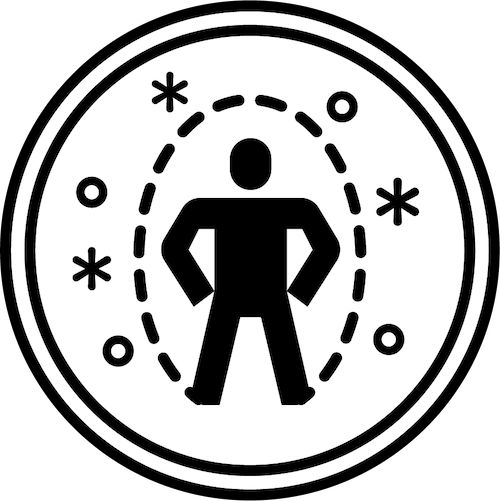 Your Personal Rock-Solid Defense
Stress, lack of sleep, or even too much strenuous exercise can weaken immunity, leaving you more susceptible to getting sick. Not to mention the pathogens and free radicals all around us. With Men's Multi, you can rest assured that your body has the rock-solid defense it needs to fight off the bad stuff and keep you feeling your best. It boasts an all-star cast of zinc, vitamin C, vitamin E, vitamin A, and selenium to help keep your immune system functioning at its powerful best.
Nutrition Info
Number of Servings
60 Capsules
Saw Palmetto Powder:
60mg
Veggie Blend Powder:
60mg
Green Tea Leaf Extract:
50mg

How To Use
When: Use our men's daily multivitamin to achieve optimized health. Best used in the morning or throughout the day, with food or between meals.
Use: Take two capsules per day, with food or between meals.
Pair With: Use alongside a Naked Nutrition protein powder to boost your daily protein intake, promote lean muscle growth, aid fat loss, and improve body composition.
Frequently Asked Questions
Men's Multi has been carefully formulated with premium ingredients to support optimized health. Containing essential vitamins, minerals, and an added antioxidant blend, our iron-free men's multivitamins work to promote prostate health, boost immune function, improve energy levels and cognitive function, and reduce the risk of certain oxidation-related diseases. Take two capsules a day to keep feeling and functioning at your best.
We do not recommend taking Men's Multi alongside another multivitamin and we always suggest talking to your physician. Since Men's Multi has been formulated to contain a high vitamin and mineral content, it designed to be a standalone daily multivitamin. By taking numerous multivitamins or vitamin supplements without seeking medical advice beforehand, you may exceed the upper limit of certain nutrients. Always consult with your physician before starting any new dietary supplement as certain medications may have interactions with specific vitamins and minerals.
As our multivitamin is intended for daily use, we recommend only consuming one serving per day. One serving consists of two capsules, which can be taken with food or between meals.
Our multivitamins are only available in capsule form. Our capsules are not made from gelatine and are suitable for vegetarians.
Men's Multi is designed for men who want to take their health to the next level. Containing premium, quality ingredients, our daily vitamin formula has been created to cover any gaps in your diet and support your overall health. Gluten-free and suitable for vegetarians, our men's health multivitamin is perfect for giving your body an extra health boost. If you're looking for other dietary supplements, make sure to check out Naked Greens or Naked Fiber.
See All Faq